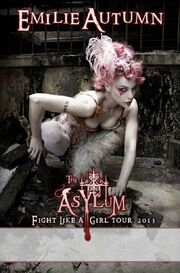 The Fight Like A Girl II World Tour is the second full tour featuring Emilie Autumn's Fight Like A Girl album.
Development
Edit
The second Fight Like a Girl tour of 2013 served as the first full setlist packed with songs from the new album. This tour was filled with the new material, new songs, new costumes, and new skits that debuted in the North American tour.  This is the first tour to feature Russia in it's tour locations.
VIP Packages unavailable in Australia.
VIP Ticket Packages
Edit
Approximately 75 EU/GBP/USD
Meet & Greet with Emilie Autumn
Photo Opp with Emilie Autumn
Autograph Opportunity
1 tin of a limited edition, VIP-only Tea Blend
1 "Fight Like A Girl" flag
1 signed setlist
Front-of-the line access
Tea & Cupcake
Edit
Approximately 45 EU/GBP/USD
Early entry into the venue when the VIP meet & greet finishes
1 "Fight Like A Girl" flag
1 signed setlist
Bloody Crumpets
Edit
Captain Maggot: Introductions
Dominant (Veronica's Fan Dance)
Comedy bit: Erotic FanFiction
Dr. Stockhill Speech
Tour Dates
Edit
North America
Edit
| Date | Venue | City | State |
| --- | --- | --- | --- |
| January 13, 2013 | Mr. Small's Theatre | Pittsburgh | PA |
| January 15, 2013 | The Rock and Roll Hotel | Washington | DC |
| January 16, 2013 | Kingdom | Richmond | VA |
| January 18, 2013 | Greene Street Club | Greensboro | NC |
| January 19, 2013 | Terminal West... | Atlanta | GA |
| January 20, 2013 | The Social | Orlando | FL |
| January 21, 2013 | Revolution Live | Ft. Lauderdale | FL |
| January 23, 2013 | State Theatre | St. Petersburg | FL |
| January 26, 2013 | The Door Clubs | Dallas | TX |
| January 27, 2013 | The Korova | San Antonio | TX |
| January 29, 2013 | The Nile Theatre | Mesa | AZ |
| January 30, 2013 | The Glass House | Pomona | CA |
| January 31, 2013 | The New Parish | Oakland | CA |
| February 1, 2013 | Colonial Theatre | Sacramento | CA |
| February 3, 2013 | Branx | Portland | OR |
| February 5, 2013 | The Rio Theatre | Vancouver | BC |
| February 6, 2013 | Studio Seven | Seattle | WA |
| February 8, 2013 | The Complex | Salt Lake City | UT |
| February 9, 2013 | Gothic Theatre | Englewood | CO |
| February 10, 2013 | The Granada Ballroom | Lawrence | KS |
| February 11, 2013 | Fubar | St. Louis | MO |
| February 13, 2013 | Station 4 | Saint Paul | MN |
| February 15, 2013 | Metro Chicago | Chicago | IL |
| February 16, 2013 | Crofoot Ballroom | Pontiac | MI |
| February 17, 2013 | The Mod Club | Toronto | ON |
| February 19, 2013 | Theatre Corona | Monreal  | QC |
| February 20, 2013 | Royale Boston | Boston | MA |
| February 22, 2013 | The Gramercy Theatre | New York City | NY |
| February 23, 2013 | TLA Theater of Arts | Philadelphia | PA |
| February 24, 2013 | Peabody's | Cleveland | OH |
Australia
Edit
| Date | Venue | City | Country |
| --- | --- | --- | --- |
| March 28, 2013 | The Zoo | Brisbane | AU |
| March 29, 2013 | The Espy | Melbourne | AU |
| March 30, 2013 | Factory Theatre | Sydney | AU |
Europe and the United Kingdom
Edit
| Date | Venue | City | Country |
| --- | --- | --- | --- |
| August 23, 2013 | Picture House (Fringe) | Edinburgh | Scotland |
| August 24, 2013 | Rock City | Nottingham | England |
| August 25, 2013 | The Ritz | Manchester | England |
| August 27, 2013 | Dynamo | Eindhoven | Holland |
| August 28, 2013 | The Tivoli | Utrecht | Holland |
| August 30, 2013 | Heimathafen | Berlin | Germany |
| August 31, 2013 | Szene | Vienna | Austria |
| September 1, 2013 | Kwadrat | Krakow | Poland |
| September 2, 2013 | Werk II | Leipzig | Germany |
| September 4, 2013 | Gruenspan | Hamburg | Germany |
| September 5, 2013 | Pulp | Duisburg | Germany |
| September 6, 2013 | Kiff | Aarau | Switzerland |
| September 7, 2013 | Rock Planet | Pinarella di Cevia | Italy |
| September 8, 2013 | Reiheiz | Munchen | Germany |
| September 10, 2013 | Schlachthof | Wiesbaden | Germany |
| September 11, 2013 | La Scene Bastille | Paris | France |
| September 12, 2013 | Trix | Antwerp | Belgium |
| September 13, 2013 | Shephard's Bush Emp. | London | England |
| September 15, 2013 | Avora Club | St. Petersburg | Russia |
| September 16, 2013 | Moscow Hall | Moscow | Russia |