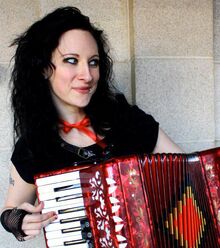 Jacinda Espinosa is a vocalist who joined Emilie Autumn as a Bloody Crumpet for only one live performance, as well as appearing alongside Joo Hee for Emilie's TV performance of "Misery Loves Company" on WGN. Jacinda sings as well as plays accordion, guitar, and piano. She resides in Boulder, Colorado and releases her music on websites such as Last.fm, MySpace, and ccMixter.
Ad blocker interference detected!
Wikia is a free-to-use site that makes money from advertising. We have a modified experience for viewers using ad blockers

Wikia is not accessible if you've made further modifications. Remove the custom ad blocker rule(s) and the page will load as expected.