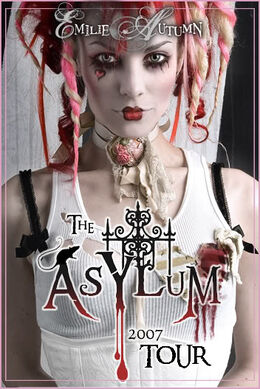 The Asylum Tour was the first full tour with Opheliac as well as Emilie's first full European tour.
Development
Edit
The sets, props, and costumes for this tour were made by both Emilie and Vecona. Many of the things that are now standard (if allowed by the venue) began on this tour incuding, the Asylum Screens of which there were two during this tour, the electric piano being lavishly decorated and being called the harpsichord, and the heart corset that would be, for a period her signature costume.
Lucina was unable to perform on this tour as she had been injured shortly before it started, she returned to The Bloody Crumpets during The Plague tour. This was Veronica Varlow's first tour. Unlike the tour in the summer all of the Bloody Crumpets' costumes were custom as opposed to being taken from Vecona's stock.
Lucas Lanthier was the opening act on this tour
Bloody Crumpets
Edit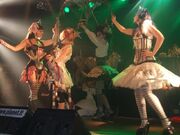 Tour Dates
Edit
| Date | Venue | City | Country |
| --- | --- | --- | --- |
| December 5 | Zeche Carl | Essen | Germany |
| December 6 | Das Rind | Rüsselsheim | Germany |
| December 7 | Tivoli de Helling | Utrecht | The Netherlands |
| December 8 | Ballroom | Hamburg | Germany |
| December 9 | Kato | Berlin | Germany |
| December 10 | Rockfabrik | Augsburg | Germany |
| December 11 | Planet Music | Vienna | Austria |
| December 14 | MUSIC DROME | Milan | Italy |
| December 15 | Jailbreak | Rome | Italy |
Notable Events
Edit
Suffer the Bear was assumed to have been stolen in Rome (It was reveled years later that he was misplaced at the end of the tour and was found in a misplaced bag in 2008)